It started with huge appreciation given by the members and volunteers following the empowering speech made in Parliament by Kemptown & Peacehaven MP Lloyd Russell-Moyle about being HIV-positive for the last ten years.
This was especially poignant to everyone at Lunch Positive as during the speech the MP referred to Lunch Positive founder Gary Pargeter being an inspiration for him to talk about being HIV-positive in public for the first time, and his reflections on the work of the charity.
The Mayor of Brighton & Hove Councillor Dee Simson lunched with members on Friday, November 30 to celebrate World AIDS Day on December 1.
The Mayor spoke of  the need to combat HIV stigma, and reflected on the continued support many people living with the virus still need. She made a point of talking to everyone present which was much appreciated by all the sixty people present who regularly attend the lunch club each week.
Lunch Positive volunteers and members were  involved in helping organise a variety of World AIDS Day activities and events. On World AIDS Day they hosted a community buffet lunch, all prepared by volunteers. Over 50 people attended, including existing friends supporters, and some new faces.
In the evening, Lunch Positive volunteers donated over 100 hours of their time to help stage the World AIDS Day Vigil and Reading of Names, followed by the annual World AIDS Day Charity Concert, which was raising funds for Lunch Positive. Local choirs performing included Brighton Gay Men's Chorus, Actually Gay Men's Chorus, Rainbow Chorus, Brighton and London Belles, Resound male voices, Rebelles female voices, Sweet Chilli Singers and Qukelele, the all women ukelele band.
The evening was hosted by Fox Fisher and Owl and a team of fourteen Lunch Positive and Rainbow Chorus members helped provide refreshments to everyone at the concert during the interval.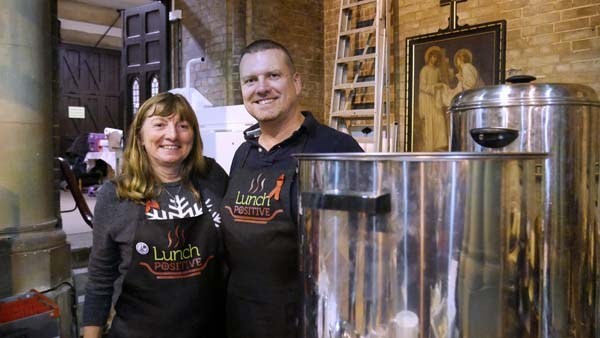 Lunch Positive also led on involvement in the production of an anti-stigma exhibition, presented at the Rainbow Hub in St James Street. Titled My Brighton, My HIV – Re-framing HIV Stigma the exhibition featured local people with HIV, empowered to be visible and challenging HIV-stigmatising views.
Gary Pargeter, Lunch Positive Service Manager said : "We deeply appreciate everyone's support of Lunch Positive throughout the year, and always so wonderfully expressed at World AIDS Day. The lunch club service at Lunch Positive is getting ever busier, involving, supporting, and empowering increasing numbers of people, and we are so grateful that this is recognised and valued.
"Small charities like ours, carrying out effective frontline work, make such a difference to the lives of people in our communities, and we are proudly peer-led by people with HIV in everything we do. There is no 'typical' person who comes to Lunch Positive, we are a diverse, accepting and inclusive community group."
However, to demonstrate the impact Lunch Positive make to the lives of positive people, service user, Tommy said : "Before I came to Lunch Positive I was alone, I felt invisible, and I wouldn't have seen anyone from one day to the next. It's been a lifeline. I had at times felt like ending it all. Being here has helped me change that feeling. Thank you Lunch Positive."